About Cate
---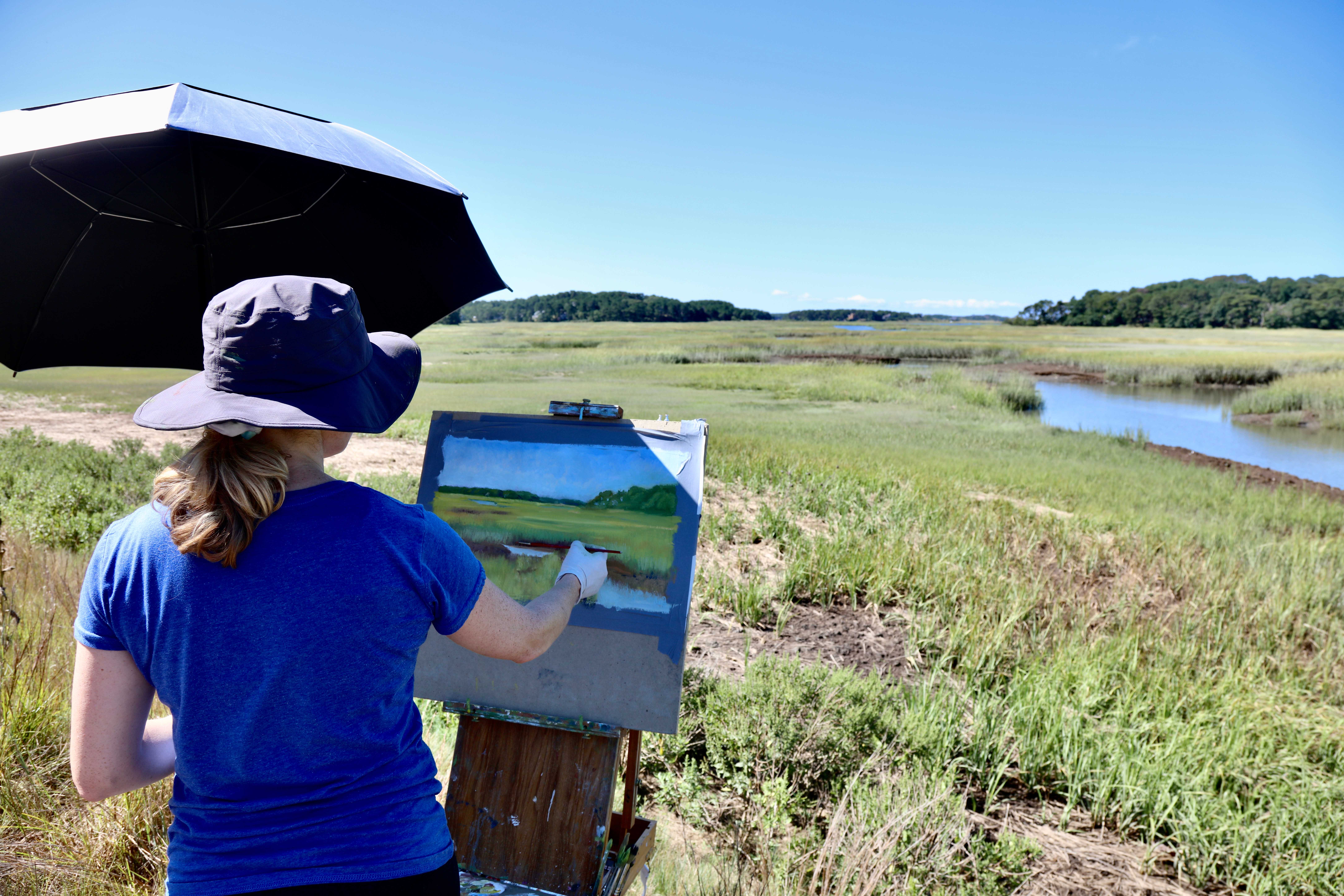 I strive to create work that can enhance a home, become a focal point and a conversation piece; something of exceptional quality of materials with a contemporary flair, that blends abstract elements with representation.
I carefully consider the design elements of line, color, shape, value, balance and negative space. Landscape inspiration comes from my travels and wanderings, from the salt marshes of Cape Cod to the mountains of Colorado, from dramatic cloudscapes to vivid sunsets over the ocean.  I usually begin with a "plein air" study on location, capturing the color values of essential elements. There is no replacement for feeling the sun on your skin and tasting the salt breeze; the painting must begin with an authentic natural observation, before the interference of a lens. Later, in the studio, I develop my work as needed. 
The "fracture" series is inspired by stained glass and the idea of finding beauty and strength in imperfection. After I have painted a scene, I add geometric shapes as if the primary image has shattered. In time, our flaws can become the source of our greatest strengths.
---
EXHIBITIONS, REPRESENTATION, AWARD HIGHLIGHTS
Part of the permanent collection of the Cape Cod Museum of Art
National traveling shows:
Segil Fine Art, Old Town Monrovia, CA; January 2012 "Impressions of France"
Addison Art Gallery, Orleans, MA; August 2011 "Inspired Synergies"
"The Subject is Light: The Henry and Sharon Martin Collection of Contemporary Realist Paintings" traveled to the CCMoA in fall 2010 and The Lyman Allyn Art Museum, New London, CT; March – August, 2011
Other shows:
The Guild of Boston Artists, Boston MA - New England Regional Juried Shows of 2009 & 2010
PRESS
American Art Collector Magazine, June 2011
Southwest Art Magazine, June 2011
EDUCATION HIGHLIGHTS
Cate has been painting in oil for 20 years since she first started painting with her father, nationally renowned portrait and still life painter Robert Douglas Hunter
She completed a year of intensive atelier study with Dana Levin
She has attended workshops, courses and critiques with renowned artists including Robert Cormier, David Curtis, Stapleton Kearns, Don Demers, Joseph McGurl, Sam Vokey, and Paul Ingbretson.
M.A. from Boston University 2006